This page is a bit more personal than the About page on this site. ~ KMK
My work, experiences, studies, and journeys have been diverse. I've had the good fortune to initiate, manage, and otherwise support work and projects close to my heart, travel a good bit, and continuously explore my own spirit and being.
Service-oriented and understated, I don't fit neatly into any category. This often confuses people, yet the diversity of my background and experience also makes me more effective in what I do: connect individuals and groups cultures, languages, and ways of being to facilitate and enhance awareness, and help people and organizations communicate effectively to cultivate understanding and solve problems to increase efficacy.
In terms of work, I've run my own businesses, held positions and consulted in the corporate world, managed projects and programs, produced international events, volunteered with nonprofits and NGOs, made films, raised awareness of unrecognized communities, built teams and departments, designed websites, logos, and other communications, written as a journalist, trained and educated adults in technical matters as well as personal and professional development, mentored people, been a professional athlete — and more.
In a personal sense, I've been interested in spirituality, metaphysics, philosophy, and related topics since my youth. I've studied Jin Shin Jyutsu for 35+ years, and have been a student of Mata Amritanandamayi Devi (Amma) for 30 years. I seek to help each of us connect with the self within, so that we can each know, express, and be our highest potential.
To read more about my life and find links to my resume and LinkedIn profiles, scroll down this page.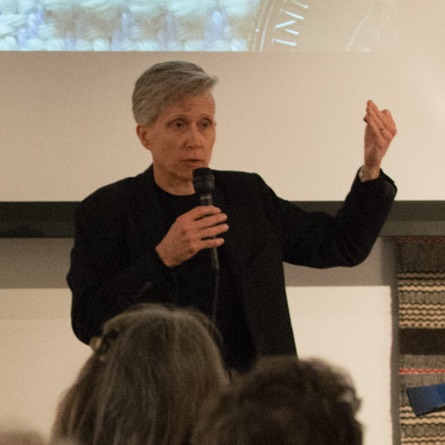 Longer Reading
What Seems Like Ancient History
Talking with my mom one day when I was in my twenties, she told me, "You were 30 years old when you were three."
Mom, of course, was right.
I was a serious kid, generally preferring the company of adults. Thoughtful and inquisitive, I was always looking beyond the superficial. I was about eight years old when I mused, "What is eternal?" Certainly it was not art (which I knew faded, decayed, or crumbled); it was not becoming powerful in the eyes of the world (even Caesar's name would be forgotten in time); and it was certainly not becoming wealthy (money, I though, was a figment of our collective imagination). I wondered, "Why am I here?" and sensed that our work as humans was to achieve some high goal. I just didn't quite know what that meant, and grew from thinking that it was perfecting ourselves intellectually and physically, to searching for the spiritual.
My hand nearly always held a book, and it was generally thick. While the details of what I read when young have long been forgotten, I discovered people, thoughts, and worlds that propelled me forward. I was interested in other cultures, indigenous ways, people, travel, animals, nature, advancing the position of women, inspiring people, and helping underdogs. I was concerned about the elderly, the poor, and those whom we now term "discarded." In retrospect, I realize I sensed others' pain and understood their feelings perhaps too much at a young age, and as a result, stifled my intuition.
While considered a bookworm and academic, I was also highly athletic and a natural leader. From a young age I was drawn to holistic health and ways of healing beyond the physical. My dedication to exercise was primarily because I found my workouts to be meditations and a means for self-discovery, self-improvement, and (I thought) self-perfection. After winning dozens of awards by the time I reached high school, I found I was really not interested in competing with or defeating others. My focus was internal. Sports had cracked something within me, pushing me from an intellectual and philosophical enquiry of life to a spiritual, heart-centered enquiry of myself.
Despite my ambivalence to competition, I graduated from Lake Forest High School cum laude as a junior, ostensibly to play professional racquetball. Even before graduating, I was asked to write a column for a national sports publication. I sent off my first "Junior Forum" piece (drafted with pen and paper, typed on non-correctable paper, put in envelope, stamped, and physically mailed to the office!) and was immediately invited to be an editor for the paper. I wrote my column, interviews, and other pieces with the desire to inspire and instruct adults as well as kids.
Oddly, only recently did I realize that writing was really my first job — and that writing has been a persistent theme in my life. I never wanted to be a writer and I have never considered myself to be writer — even when I have held the title of writer! For me, putting words on paper has always been a tool, something done because a specific message needed to be conveyed, and I was present at the necessary time and place to be the conduit. Similarly, I have repeatedly been thrust into roles teaching, organizing, and leading, even when I did not seek the position (and often resisted).
After two years, I extracted myself from my adventures in professional sports, started an unsuccessful seasonal business, and then, at age 19, moved to Tucson, Arizona. I was emotionally empty, yet over-full and wired. The training schedule I maintained was extremely intense, I cut myself no slack, and I had fried my adrenals. I knew I had to change my life, and yet I didn't have a clear picture in mind of what that meant.
I had studied a great deal of anatomy and physiology in conjunction with my own sports training, and this led me to start pre-med studies at the University of Arizona with the intention of going to a naturopathic college. Instead, what was unfolding in my life transformed my interest in holistic medicine into a passionate desire to investigate the more subtle, energetic, and spiritual realms of health.
While I was introduced to, and had much bodywork — Rolfing, cranial, breathwork, Feldenkras, massage, and more — my immediate love and deep connection was and has always been with Jin Shin Jyutsu, the Cosmic Artless Art of Know (Help) Myself. More than bodywork, more than energy work, Jin Shin connects each one of us with ourselves, (Know Myself, Be It Is, Is) and harmonizes on emotional, spiritual, and physical levels. I had the great grace to study with Mary Burmeister in the 1980s, and received hundreds if not thousands of treatments from several of her closest students in the decade I lived in Tucson. Jin Shin has been a consistent undercurrent in my life, even if almost invisible at times. I have always practiced on myself, and over the years have been the Jin Shin Jyutsu conduit for others.
My studies in Tucson extended far beyond the university campus, as my time there was a long period of challenges, learning, and transformation. My focus was internal, and to make ends meet, I variously cooked in restaurants; cleaned, organized, painted, repaired, and transitioned houses (my term for helping people organize their homes after, or to facilitate, a major life change); provided education and outreach services for a food cooperative; picked up design and writing projects; and more. For a short time, I even helped run a macrobiotic cooking service, as I experimented with ways of eating beyond those I had tried as an athlete. I also went to meet many of the spiritual teachers and wannabes who came through Arizona in the 1980s.
I quit school for a few years to focus on my internal journey, and when I finally resumed university studies, it was in art — graphic design, to be specific. While this surprised many friends, I had always loved design and fiber arts, had done some design as a component of several jobs, and always had design influences in my life (see How Sardinia Came into My Life, Part One). In addition, the work I had done with racquetball, newspapers, the food coop, and various sports clubs made me realize that while I inherently knew how to communicate, I could learn more and get a degree that furthered this work. And while I loved journalism, I felt newspapers too vulnerable to publisher-advertiser whims, and I didn't want a degree in English or Communications.
My early graduation from high school meant that I renounced numerous potential scholarships, and to get myself through college, I ran between classes, various jobs, homework projects, and commitments to the house and community where I lived, while somehow keeping up Jin Shin treatments and my self inquiry. My weaving classes and professor influenced me greatly; I also much enjoyed and learned from my photo history and film history classes, which segued with my love of studying people, cultures, and ways of communicating.
In 1992, as I was heading into my last year of university, I had an encounter that changed my life: I met Mata Amritanandamayi Devi (more commonly known as Amma). Even if I were interested in writing volumes about my experiences with her, it would be a candle holding a light to the sun. Perhaps at other times I'll share some of my adventures with her — of the first meeting, when I felt as if I had jumped into a pool of water of exactly the right temperature and melted; of traveling with her in the United States, India, Europe, Australia; and most importantly, of the many internal adventures and lessons of self-discovery that continue in her light.
Just as it had taken about a year for me to leave Lake Forest when I quit playing racquetball, it took about a year for me to leave Tucson after I graduated college. After considering San Francisco, Seattle, and Denver, I finally moved to Colorado. The move itself was not difficult, but finding my place was. Rather than listening to my intuition, I listened to a friend, who urged me to take the first design job I was offered. The position, company, and location were not a fit for me in any way. After six months, I was out the door, in worse shape than when I had entered. I was bruised emotionally, my truck had become run-down from too long a commute, and I had no new professional work in my portfolio.
I spent the next year or so getting my feet on the ground, doing freelance design work, hand-making and selling greeting cards, teaching self-help classes, writing occasionally for local publications, picking up odd work, and launching a major initiative for the statewide GLBT chamber of commerce. A part-time job in a training center then led to a full time position as a trainer for a major software company. The other instructors realized my ability to teach and communicate, and the company was willing to provide me the technical training, even though the learning curve was straight up — rocket-launch trajectory. While I had not intended (and had actually not wanted) to have a career where my hands were on a computer all the time, computers came to me.
During the years I had an address in Denver, I spent more time traveling than at home. I criss-crossed the United States by plane and car, spent much time in India at the ashram and on tour with Amma, and made trips to Europe and Australia. The income I earned from corporate training and instructional design funded my continued self-discovery and travels with Amma, where I volunteered my time writing, organizing, talking with and teaching people, and filming and editing video.
More Recent History
In 2007, I moved to the San Francisco Bay area. I had been enchanted with the city from the time I first visited with my parents, loved the hills of the East Bay, and spent a good bit of time in the area during the ten years prior to my move. While I had wanted to live in San Francisco for some time, the means seemed elusive. Then — as often seems to happen — situations changed quickly, the way opened, and in a matter of weeks I found myself living in a new state.
My first years in the Bay Area, like my first years in Denver and Tucson, were difficult. Initial jobs and situations did not work out as anticipated, and business ventures I started alone or with friends were not financially successful. For a few years, I felt as if all work and volunteer projects I touched turned to dust. Such periods of difficulty bring light, and I was grateful that, living at a friend's, I had a sanctuary to go through what is often called the dark night of the soul.
The situation externally and internally eased in about 2011: work and finances improved, travel resumed, new projects began, and the darkness lifted.
For a few years, I consulted with a utility company, writing training manuals, filming training videos, and running training projects for electricians who worked on live power lines. I became strongly drawn to Italy and Sardinia (see this story), started Sardinian Arts, and took a position working with a startup owned by a large advertising holding company. The variety of work I did at the company often had little relation to my title or position, but was typical of startups and the being "somebody" in the everybody-somebody-anybody-nobody story.
Working in advertising technology in the extended Silicon Valley magnified and personified the experience of what the wider population now sees: the tremendous changes brought by the rise of the technology giants, the gizmification of communication, the vast collection and use of personal data — and the not-always-so-positive effects all of these, and more, have had on humans and Mother Earth. In the Bay Area, as in too many places in the world, there's a tangible sense of despondency about environmental issues and the increasing discrepancy between haves and have-nots, and most individuals feel a lack of meaningful communication, inner purpose, and personal satisfaction.
Increasing, no matter the context, I have found myself in a position where I can help those around me help themselves: To get through and break free from personal difficulties; to start or advance a career as dreamed; to transition out of the corporate world into businesses or nonprofit work that springs from hidden talents and nourishes the soul; to begin new habits and leave behind those that don't support us in the best way possible; to change thinking to transform how we see ourselves and the world, and to become that which each one wants to be.
~ Kelly Manjula Koza
If you want to know more, see the article How Sardinia Came into My Life, Part One on Sardinian Arts, or search through some old projects in the KMK Archives.
Resume and LinkedIn Profile
Click here to view my resume or click here to find me on LinkedIn.